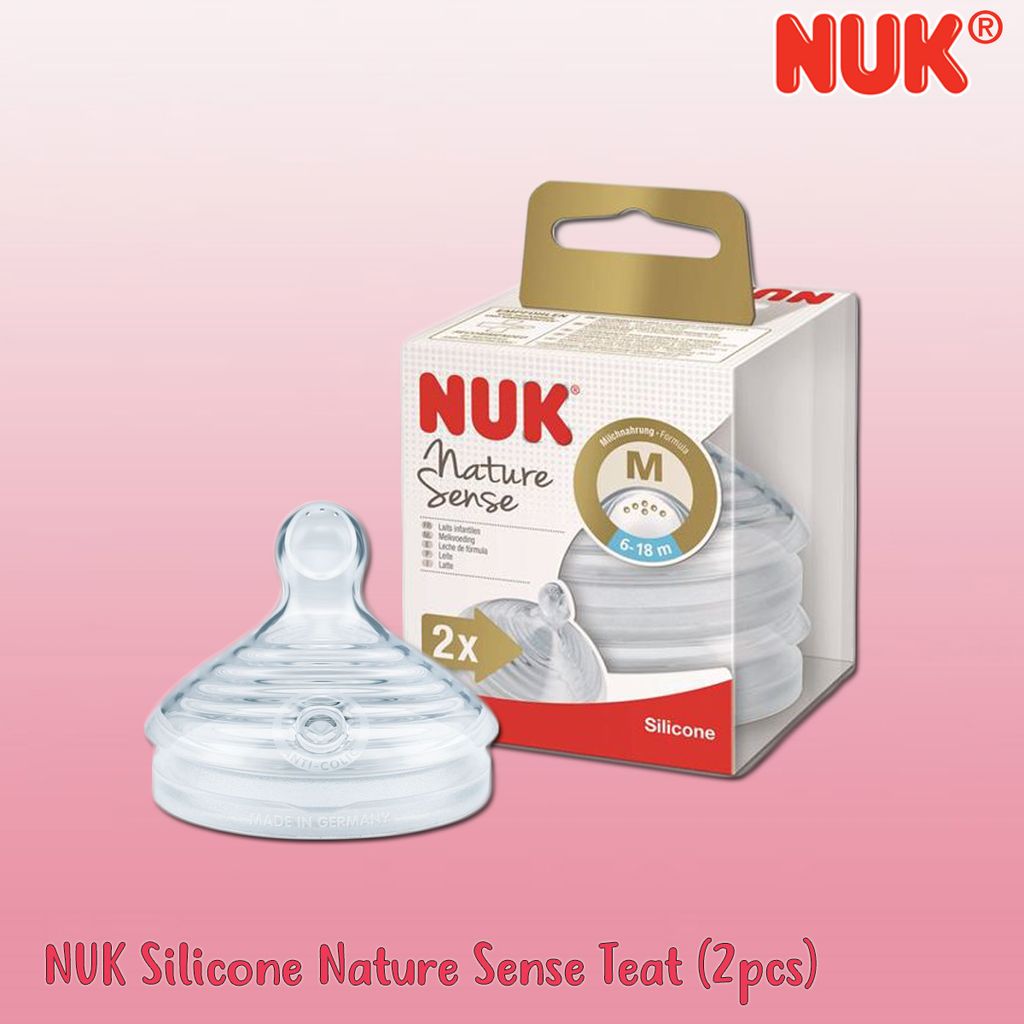 NUK Silicone Nature Sense Teat (2pcs)
DESCRIPTION
NUK Nature Sense Teat
The changeover from breastfeeding to bottle-feeding can often present mothers with a little challenge. To support you in this sensitive phase, we have been inspired by nature and have developed a teat that is as close to mother's breast as never before: the NUK Nature Sense Teat. The innovative new teat has several tiny openings instead of just one hole which ensures a smooth and natural flow for your baby. This way your little one feels completely safe and secure and, as a result, can accept the bottle easily.
The perfect combination: Nature Sense Teat and Baby Bottle
The teat, which is rated and recommended by mothers, midwives and paediatricians* is available in three different sizes (S, M and L in 6-18mths only) each with a different number of feed holes (3, 6 and 9) to cater for breast milk up to thicker feeds. As your baby grows so do the Nature Sense Teats with sizes for babies aged 0-6 months up to 6-18 months which can be changed easily. The combination of the NUK Nature Sense Teat and its matching NUK Nature Sense Baby Bottle are simply an unbeatable team. With Mother Nature's help and our own inspiration, bottle feeding has never been so simple.
This Nature Sense Teat makes bottle feeding easy not only for your baby but also for you. In fact, the whole family can get the most from the NUK Teat; dads, brothers, sisters, grandparents and friends can all share the close feeling with baby during feeds, whilst mum can be treated to the occasional and well deserved rest.
• Several tiny openings modelled on a mother's breast give an optimal, smooth and natural flow
• Wide, flexible lip rest with extra-soft teat tip similar to a mother's nipple encourages acceptance
• Innovative anti-colic vent helps prevent air being swallowed
• For children aged 0-6 months
• Fits all NUK Nature Sense Baby Bottles
• Approved by the Oral Health Foundation.
For safety and hygiene purposes we recommend that you replace teats after 1-2 months of use or whenever they start to show signs of wear. Prior to sterilisation we recommend using the NUK Baby Bottle Cleanser, its natural formula removes dried on milk protein, pulp and juice residues more effectively than hot soapy water alone.
BPA (Bisphenol A) free.
SIZE
- Small: 3 tiny openings for breast milk and water
- Medium: 6 tiny openings for formula
Customer comments
| Author/Date | Rating | Comment |
| --- | --- | --- |